Profile
In my drawings some pieces are left unimproved and others are incorporated into the paintings - always using the original marks in the expectation that the work does not become laboured.
I like to study a moving -- or on the verge of moving -- model. I am fascinated with line, the straight and sharp engineered by movement, juxtaposed with the soft curve of the body.
My paintings are mixed media, acrylic and oil on canvas or board. I aim to give a sense of space and depth, by combining the emptiness surrounding the figure with glazing and often collaging, often with frail, transparent papers and paint, with any opaque material building up a physical depth; and colour an illusion of that depth. Other times, I build up many layers of paint, glazes and collage and literally scrape and dig out the hidden figure which is usually, whatever the medium, the starting point of the work.
By contrast, my watercolours of Still Lives are worked on heavily textured paper or a prepared surface which gives the subject its only movement or flexibility, relying on colour and pattern to give life to the piece.
I began painting when living in Japan. On returning to England I attended Brighton Art School, graduating in 1979, where I studied under Gwyther Irwin. My work is in collections in America, Australia, Belgium, France, Germany, Holland, Hong Kong, Japan, Spain, Switzerland and the UK. I continue to work in East Anglia, where I live.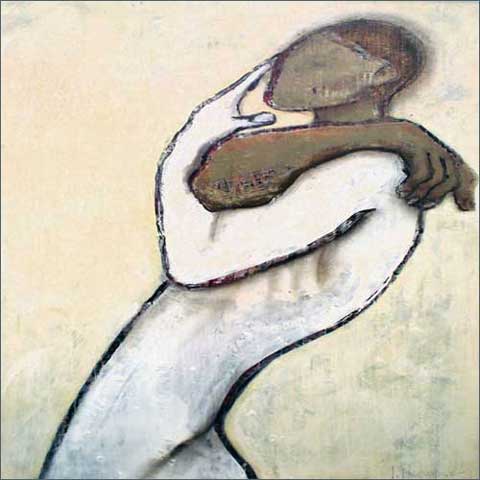 Take 5